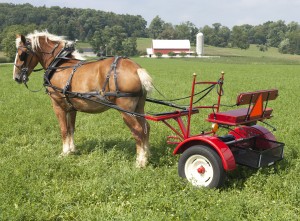 High Falls Gorge Farm has been a New York  Authorized Dealer in Pioneer Equipment since 2007. Contact us at: 518-536-0008

Pioneer Equipment Inc. has been Manufacturing Quality Horse Farm Equipment Since 1978.
A leader in the horse-drawn equipment industry, Pioneer Equipment Inc. manufacture's : Plows, Harrows, Wagons, Sleds, Forecarts, PTO Carts, Neckyokes and Eveners, Tongues, Wheels and Rims, Running gear and Patio Seats.
You can check out many of the items we offer below, there are many options availible, please check the price sheet link for those. If you decide to purchase, some of the merchandise can be picked up here at our farm or we can have your purchased items shipped right to you. You can contact us for items in-stock at our farm, current prices and on shipping quotes to your address. We accept payments of most Credit Cards through Pay Pal. Personal checks are also accepted but delay shipment until check clears. We ship by UPS or Frieght depending on the size of the item ordered. We can ship all over so contact us for a shipping quote.
————————————————————————————————–
**We are currently changeing the face of our website – Please bare with us, we plan to add  sub pages off of the Pioneer page to make it easier for you to look up specific products. We will also be posting the new 2011 Price sheet shortly.Please select the Like Button and follow us on FaceBook.  Thanks again for visiting us, we do truely appreciate your business.
You can also visit our Sister site at

pioneerequipment.org

a new site we are building to just focus on Pioneer Equipment by clicking on the link above in blue.

NEW PRODUCTS COMING IN 2012
THE PIONEER BUCKBOARD
Hook up your Standardbred or a Team of Ponys and go to Town in style with the NEW Pioneer Buckboard. Comes in Natural Clear Wood also.
THE PIONEER FORECARTS AND PTO CARTS
Pioneer Forecarts : Proven through the years of on-the-farm performance, our standard Pioneer forecart provides dependable service on the road and in the field. Quaility materials and workmanship are combined with  clean, well-balanced design for true value and economy. Originally designed for horse farmers, this forecart has evolved into an essential tool for all horse and mule owners. Whether you horse-farm, breed, train, or just want to excercise your horses, mules, or ponies, the Pioneer forecart will suit your needs. Available in three sizes :  Draft, Haflinger and pony with many Options and Accessories.
Also available is the Pioneer Liberty PTO Cart : you can choose the horsepower to fit your application from a range of 20 HP to 75 HP. Quiet running gas or diesel engines help you do more work in less time. Field ready and loaded with features, these PTO carts are proven performers.
————————————————————————————————–
THE PIONEER HORSE DRAWN WAGON GEAR
Pioneer Horse Drawn Wagon Gears : Whether you're a farmer, hobbyist, or providing commercial wagon rides, Pioneer can design a complete custom wagon just for you. Choose from four sizes ranging from 1/2 – ton to 6 – ton capacity. Select the proper gear and wagon bed, then complete the package with suitable options and accessories.
Shafts sizes :mini 46″, pony 60″, cob 70″, haflinger 76″ and draft 87″; Tongue sizes : mini 73″, pony 85″, haflinger 102″ and draft 118″.
————————————————————————————————-
THE PIONEER TRACTOR WAGON GEAR
Pioneer Tractor Gears :These heavy duty wagon gears have heavy duty components and are designed to take the punishment in all field conditions. Choose from 6 to 15 – ton capacity. They feature behind the axle automotive type steering which elliminates road whip and provides smooth and straight towing. Quick Hitch Extendible Tongue – is designed for easy hook up , its self-locking latch can be operated from the seat of your tractor. Many different type beds can alo be ordered for your new wagon gear.
————————————————————————————————-
THE PIONEER SPIKE TOOTH HARROW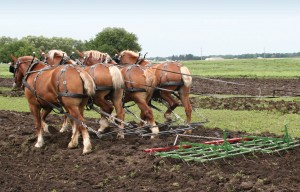 Pioneer Spike Tooth Harrow : Pioneers spike tooth harrow is designed for leveling, weeding and seedbed preparation. Pull it with ponies, horses, mules or a tractor or ATV. High quality materials and craftsmanship ensure years of performance.
Sizes : Available in 5′ and 6′ sections up to 18′ ; Spike teeth : 35 teeth per 5′ section and 40 teeth per 6′ section.
————————————————————————————————-
THE PIONEER SPRING TOOTH HARROW
Pioneer Spring Tooth Harrow : Ideal for seedbed preparation and weed killing, our spring tooth harrow is built for trouble-free performance and reliability. This ultimate all-purpose tillage tool features swiveling front runner shoes and a rear raker bar, which eliminates the need for full length runners and reduces the build up of stalks or weeds. Each section is an individual unit for easy handling and storage. Additional sections can be added by changing to a longer drawbar.
Sizes :Availible in 3′ and 4′ sections up to 16′ wide ; Spring teeth : 8 teeth per 3′ section, 11 teeth per 4′ section.
————————————————————————————————-
THE PIONEER SULKY AND FOOTLIFT PLOW
The Pioneer Sulky Plow (also availible in Footlift Sulky Plow) :Built for performance and reliability, the Pioneer sulky plow can handle any type of soil conditions, plowing at a uniform depth at all times. All levers and controls are easily reached from our large, comfortable and spring-mounted seat. Width and depth are widely adjustable. It also features beam-to-bottom clearance and a full width coverboard for excellent trash and cover crop covering. Choose from three sizes and a range of adjustments and option to get just the right combination you need.
Sizes : 12″; 14″ and 16″ ; Bottoms :Oliver type or optional John Deere 14″ or European type Kverneland.
————————————————————————————————-
THE PIONEER WALKING PLOW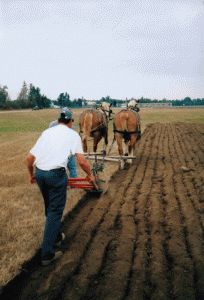 The Pioneeer walking plow :An economical option for the small farmer or homesteader, our walking plow features a simple yet dependable design for years of trouble-free service and is easy to use in nearly all soil conditions. Standard equipment includes a sod breaking jointer, fully adjustable depth gauge wheel, convenient swivel hitch clevis, and steel handle slide to eliminate wear on the wood handles.
Sizes : 12″,14″ or 16″  ; Bottoms : Oliver type or optional John Deere 14″.
————————————————————————————————–
SLEDS AND STONEBOAT
Pioneer Work Sled and Pioneer Stoneboat :Ourwork sled is perfect for light hauling of firewood, hay, or farm supplies. It also works well for training colts or exercising horses. For greater performance in snow and on bare ground, we've incorporated all-steel runners that provide better float over ruts and rough terrrain. Add one or two seats for more passengers, additional comfort and safety.  The Pioneer Stonboat will haul light loads and exercise you're horses with this economical runabout sled. It measures 4′ wide X 5′ long. Features 6″ high steel soled runners and a removable 24″ dashboard.
————————————————————————————————-
PIONEER MISC. ITEMS
Pioneer Misc. items : include Neckyokes, Doubletrees and Hardware; Eveners and Hitches, Tongues and Accessories, Steel Wheels, Hubs  and Rims, Patio seats and Deluxe Tractor seats.
Links to check out:
Whats Horse in Northern New York http://whinny.org
This page has the following sub pages.